Dear friends, helpers and supporters, dear godparents,
Thanks to your cooperation and financial donations, this year again the number of children for whom our association can make it possible to go to school has increased.
29 children and young people are currently receiving funding.
Another class of the Emilie-Wüstenfeld-Gymnasium has taken on a sponsorship. We are very happy with the sponsored child Richmond.
We are still looking for sponsors for four children!
Of the three young people who finished school in 2019, Ebenezer is training to become an electrician. We were able to offer a 3D design course for Hayford. Here you can see how committed both are.
This year, three major donations totaling € 5,600 have brought us a big step forward and the planned own educational center in Teshie is getting closer.
When Annegret Schröder is in Ghana in January 2020, she will definitely discuss this with Jakob Tetteh, our local man.
He also informed us in 2019 with certificates and documents about how our sponsored children are developing. The fact that he regularly organizes meetings with parents and teachers has a positive effect.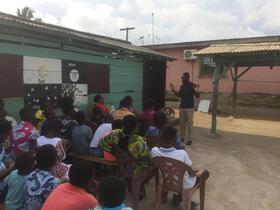 We took special care of Evans, who was unable to walk, but unfortunately we have not yet been able to find a medical solution for him. We are all the more pleased that we can finance a driver service to school for him.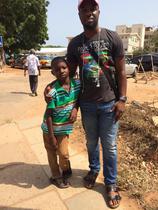 With gratitude we remember our board member Jürgen Fegbeitel, who died much too early. Heike Eggers will continue his work temporarily.
Dear friends and sponsors, we would like to cordially invite you to our Annual General Meeting on February 5, 2020 at 7:00 p.m. in Bispingen Town Hall.
There will certainly be an interesting travelogue from Annegret Schröder and also the opportunity to toast the 5 year anniversary of the Friendship with Ghana e.V.
Best wishes for 2020
Your team from Friendship with Ghana e.V.